Abra



Name

Abraham Altaïr Botros-Giordano

Nicknames

Abra, Abey, Junior, Abraham Jr., Baby Abey

Date of Birth

12th April 2080

School

Hogwarts School of Witchcraft and Wizardry

House Affiliation

Gryffindor

Class of

2098

Occupation

Singer-songwriter
Artist

Build

5'7", slim

Hair

Brown, long-ish

Eyes

Brown
Magical Characteristics

Heritage

Pureblood

Wand

12 ½", phoenix feather, laurel, springy (first wand)
12 ½", phoenix feather, juniper, springy (second wand)

Boggart

The Monster™

Amortentia

Broom polish, home-made food, something associated with Dante

Patronus

Cheetah
Musical Career

Years active

2095 - present

Genres

Wrock, alternative wrock, pop wrock, indie wrock

Instruments

Vocals, guitar

Label

Dark Circus Records (2097 - 2100)
Mind's Eye Records (2100 - present)

Associated acts
Abraham Altaïr Botros-Giordano (born Abraham Altaïr Botros and known mononymously as Abra), is a singer-songwriter who was born 12th April 2080 in Alexandria, Egypt. He attended Hogwarts School of Witchcraft and Wizardry and was sorted into Gryffindor house, though he was a very rare four-way Hatstall. Abra served as Gryffindor Quidditch Captain in his fifth year, and Gryffindor Prefect in his sixth and seventh years. He graduated with the class of 2098.
Abra lives in a studio flat in London, England, along with his cat, Squigs (a gift from his brother) and his crup, Feo (left to him in his grandfather's will). He is married to Dante Botros-Giordano. They were boyfriends since fifth year, got married on a whim on 7th July 2097, and kept it a secret for over a year afterwards.
Abra was one of a number of new artists featured on a compilation album released in June 2098, when he was 18. His first solo album, Colours That Don't Exist, was released in July 2099, and his next project is currently underway. Abra also takes on painting commissions as a secondary means of supporting himself; he creates hyperrealistic, vividly colourful magical portraits, many of which incorporate abstract features.
Personality and Key Characteristics
Abra wears his emotions openly and is terrible at suppressing them. Though he is outgoing and confident around his family and friends, he tends to be more shy around people he doesn't know very well. From around the age of ten, he started trying to overcome his shyness by acting instead as different characters or other people, and occasionally embellishing the truth in his attempts to connect with others.
He has a flair for dramatics, especially around his family and friends when his behaviour can be surprisingly eccentric, but he has a soft heart and a generally gentle temperament. When he is not surrounded solely by those he is close friends with, Abra is more likely to stay quiet and keep to himself, and generally prefers his own company.
Despite his shyness and discomfort around unfamiliar people, Abra wanted to pursue a career in music nevertheless. His passion had been writing and singing songs, and playing his guitar, for some time, enough that he felt brave enough to put himself out there. When it comes to performing, he gets through it by using his acting skills to play a part, putting on the persona of 'the charismatic performer'.
Given his exuberance around his friends, his line of work, and his tendency to fool people into thinking he's more outgoing than he is, Abra is sometimes mistaken for an extrovert, but the opposite is true. He is incredibly sociable and outgoing when he is at ease, but finds it much more comfortable, and easier to recharge, when he is on his own. Sometimes he goes very quiet, and on those days he prefers spending time alone, or simply existing quietly with a relative or friend who is happy to sit in silence with him. Once he has 'recharged', Abra can easily return to his more exuberant state.
He is very physically affectionate with his friends, and enjoys hugging, holding hands, and giving kisses on the cheek to friends regardless of gender, provided they are okay with it. But though he is usually loving and gentle, on a bad day Abra is liable to be snappy and lose his temper even with those he loves the most.
Abra is most at ease around his family, and knows he can always count on them for support; in return, he puts them before everything else. However, being part of such a big family, with many successful relatives and a lot to live up to, can have its drawbacks. Growing up, Abra felt immense (though self-imposed) pressure to live up to the family name, and especially to prove himself worthy of the name 'Abraham Botros', which carried a lot of weight. For a long time, he desperately wanted to prove himself (particularly to his father, with whom his relationship is practically non-existent), and to be the best at something, anything. It took him years to work past this, and on bad days Abra still feels like he needs to be the best at something before he can have any self-worth, but for the most part he no longer feels this way.
Around the age of sixteen, Abra began to realise that his desire to prove himself to others had inadvertently set him on a path didn't work for him. He became conscious of the fact that his main motivation in life was always the approval of other people, and has since changed the ways he motivates himself. Abra now focuses on what he enjoys rather than the things he thinks people expect or want him to do.
Abra sets himself very high expectations. He is a perfectionist, and when he cannot meet his own impossibly high standards, he becomes upset, demoralised, and anxious. When he was younger, he had a tendency of starting projects and picking up hobbies, only to quickly abandon them once he realised he wasn't instantly perfect. Luckily, he is very receptive to encouragement and support, and can usually be spurred on, but does have the tendency of not trying at all in things he knows he cannot do, so intense is his fear of failure. Although he is confident in his song-writing and performing abilities, his perfectionism meant that establishing himself in the music world had extra hurdles. Abra generally feels that there is always something that can be improved in his work, and so learning when to stop and call a project finished has been difficult, though invaluable. Even so, writing and recording music can often be a lengthy process for him.
Anxiety is a huge problem for Abra, and though he uses his talent for acting and his creativity to push past this and his shyness, he also suffers from panic attacks that strike out of nowhere. These first arose when he was nine, shortly after his grandfather became ill, and became much worse after his first year at Hogwarts. He has regular sessions with a Healer, who diagnosed him with generalised anxiety disorder and panic disorder, in addition to post-traumatic stress disorder, which all exist independently of each other. Though Abra is quite a fearful individual, almost always on edge, he tries to be brave and push through the fear.
Abra has severe dyslexia, which wasn't diagnosed until he was twelve. This made school a nightmare, as he struggled with all theory lessons, and any subject that required closely following written or verbal instructions, such as Potions. He always felt he was wasting his and everyone else's time by staying at Hogwarts, but saw his school years through to graduation all the same.
One thing Abra never had any kind of internal conflict about is his sexuality. He first suspected he might be gay when he was ten, and knew for sure when he was twelve. Though his certainty in the area was a major positive, it also meant that for a while Abra couldn't understand why anyone would feel conflicted or uncertain about themselves. Luckily, he developed more understanding and patience by the time he was thirteen. Now, Abra includes LGBT+ themes in his music, to show solidarity and support with any listeners, particularly the younger ones, who might be struggling with who they are, need to know that they aren't alone, or simply want to feel represented and seen.
Interests and Abilities
Art: Abra has been interested in art for as long as he can remember. He explored many styles over the years, and has now settled on painting hyperrealistic portraits with vivid colours (occasionally incorporating abstract features), generally in oils and on large canvases. Throughout his years at school, Abra frequently produced art and often focused more on that, along with his music, than on his schoolwork; as a result, his grades were not great but his artistic and musical skills improved exponentially. He spends a lot of time drawing and painting for fun, and now also takes commissions as his secondary income. Abra takes a lot of photographs in order to have reference photos for his art; he doesn't consider himself a skilled photographer, but he did take photographs for the Yearbook while at school.
Drama: Having been a part of a drama club for a year before starting school, as well as Hogwarts' own drama club, Abra has always shown great interest in acting. He is highly skilled at it too, evident in not only the roles he has had in various productions, but also in his day to day life. Abra's on-stage persona is likely his most important role to date.
Languages: Growing up in Egypt, Abra was brought up speaking both Arabic and English, making him bilingual. He does not currently know any other languages. Abra can speak and understand both Arabic and English fluently, but has much more trouble with reading and writing in either language, due to his dyslexia.
Music: Abra commits a lot of time to music, especially now he is pursuing it as a career. He plays the guitar and sings, and received lessons from West Odessa in both of these areas when he was younger. Abra also writes and performs his own songs. He is by no means naturally gifted at guitar; it took a lot of time and work to reach his current skill level, especially as, when he was younger, he had a bad habit of forgetting to practice for long periods of time. Songwriting (or, the composing of songs, as he dislikes the actual writing part) comes a lot more naturally to him. New melodies and lyrics are constantly occurring to him.
Quidditch/Flying: Due in part to the influence of his family and family friends, Abra was flying since before he could walk. He started attending Quidditch camps as soon as he was old enough, and later played for the Alexandria U14 and U17 teams, and the Gryffindor house team, though he was almost always anxious about the attention. His position was Seeker, and he is very skilled at flying and seeking (the latter especially when he discovered that he needed glasses and started wearing contacts, allowing him to find the snitch with more ease). Since graduating from school, Abra no longer plays Quidditch and seldom finds the opportunity to fly recreationally. He was voted Most Likely to Play Professional Quidditch in his fourth year at Hogwarts, the first year that Quidditch was brought back. Though it had been his dream as a child, by this point he no longer wanted to play professionally.
Synaesthesia: Abra is a synaesthete. In his case, sounds, smells, taste, and touch invariably trigger the perception of colours. It generally enhances his perception of the world, especially given his ability to perceive more colours than the average person, but can easily be overwhelming at times. He does find that it enriches his experience with art and music. Abra also has a form of spatial-sequence synaesthesia, though to a lesser degree, which means that he often automatically assigns spatial locations to particular times, dates, names, etc.
Tetrachromacy: Abra is a tetrachromat. Generally this means an organism has four cone cells in the eye, and in humans generally relies on a person having two X chromosomes. However, it was determined in his fourth year through a simple test that Abra has XY chromosomes, meaning that his perception of extra colours likely has a magical explanation. He opted not to look into the matter any further, but has allowed one of his friends to interview him, form theories, and write about the phenomena. While some find this ability intriguing, Abra, who has never known any different, just considers it normal. It has, however, explained why some things, like colour-matching in painting, and trying to achieve exactly the right hue when brewing potions, can be so distressing for him.
History
Pre-Life and Early Life
Owen Botros is the eldest son of the late Abraham Botros. Abraham's father was Abraham Botros Sr., who fought and played a significant role in the Second Wizarding War when he helped to hide muggleborn witches and wizards. Abraham Sr.'s wife, Latifah, tended to the wounded.
Though he grew up in Egypt, Owen attended Hogwarts like the rest of his family, and was a member of Hufflepuff house. After graduating from Hogwarts, and then from Wizarding University, Owen returned to Egypt where he met Nora. In 2063, after a long and rocky on-off relationship, Owen and Nora married; this was shortly after a long break-up, during which Owen realised he could not live without Nora, leading to him proposing out of the blue even though she was seeing someone else at the time. Nora broke off her relationship in order to be with Owen.
Owen and Nora's eldest son, Hassan Botros, was born in 2065, and their daughter, Lilian, arrived in 2067. The relationship between parents and children was like in any pureblood family; Owen and Nora watched their children closely for signs of magic, and were relieved when they were eventually accepted to Hogwarts. Hassan was raised by Owen to have a high sense of responsibility, and it was always fairly clear that Hassan and Lilian were the most cherished grandchildren.
The plan had always been for Owen and Nora to have just two children, but, years later, one more came along. Abraham Altaïr Botros (then referred to as Abey by his cousins and siblings) was born on 12th April 2080, in Alexandria, Egypt. The age gap between Abra and his siblings is significant, and in terms of age he is much closer to his cousins than to his brother and sister. Abra lived with his parents in the family mansion in Egypt, and had an incredibly privileged life. Every summer, at his grandfather's insistence, the family would gather in the Alexandria mansion and spend the entire summer together, a tradition Abra's own father continued to insist upon after Abraham's death. Some of Abra's earliest memories are of running or flying around the grounds and the house in Egypt, and playing games with his cousins and siblings. He showed his first signs of magical ability as a toddler, when he would change his toys into different colours.
Abra grew up spending a lot of time with his cousins, particularly Junia, Alanna, and Aaron, who were the closest to him in age. Due to family connections, Abra also personally knew a number of famous witches and wizards while growing up, including Sherman Clark (who was the Minister for Magic for a time), Quidditch player and wrockstar West Odessa, and Quidditch player Alice Odessa, all of whom had known him since he was born. Abra's own brother was a professional Quidditch player for the Montrose Magpies, and also played for the Egyptian national Quidditch team. Because he knew all of these people from a very early age, Abra never considered it out of the ordinary to know so famous people.
Pre-Hogwarts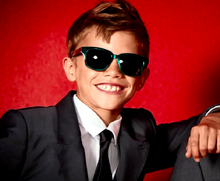 Prior to attending Hogwarts, Abra did not attend Primary Wizarding School, though his mother ensured that he would be appropriately educated in preparation for Hogwarts. He was raised bilingual, speaking both English and Arabic. Being related to a famous Quidditch star - and pseudo-related to two more - Abra was raised knowing how to fly a broom. He participated in Quidditch camps from the age of four, and met some of his longer lasting friends there.
In 2088, when Abra was eight years old, a curse-breaking accident put his grandfather in the hospital, triggering memory loss and episodes of confusion. Abra and the younger members of the family were permitted to visit their grandfather in the hospital from time to time, though not often, as he would often have trouble remembering them, which was upsetting for everyone. Around this time, Abra, already tormenting himself over the pressure of living up to the Botros legacy, and now with the added worry about his grandfather, went from shy to anxious. At the age of nine, he had his first panic attack, which would turn out to be the first of many.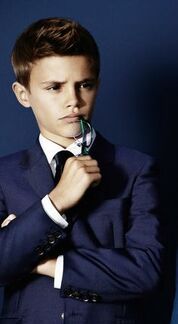 In the summer of 2090, when Abra was ten years old, his grandfather revealed to him and his siblings during a visit to his St. Mungo's room that he would be returning home that day. Abra was elated, confident in the belief that his grandfather must be well again if he was coming home. Hassan, Lilian, and the Clarks (who had also come to visit) had some reservations, but Abraham, stubborn and determined, did indeed return home. Later that night, back in Alexandria, Abraham Botros passed away surrounded by his loved ones. His death had a huge impact on the surviving members of the family.
In the last year before Abra was due to set off for Hogwarts, he was enrolled in a muggle drama class, in an attempt to try and boost his confidence, and to prepare him for mixing with other children. Abra loved it, and especially loved learning how to act through his anxiety, and to put on a performance in order to get through any situation.
The night before his eleventh birthday, Abra was visited in his sleep by a Dream Messenger who left him a token, informing him he had gained entrance to the African magical school, Uagadou School of Magic. Upon waking, and discovering it had not been just a dream, Abra was at first intrigued and then, when he realised he did not also have a Hogwarts letter, utterly distraught. He begged his mother to get him into Hogwarts instead, fearful that he would end up different from his family, and separated from them. His mother promised that she and his father would do their best to transfer him, but the tears were for nothing, as later that day an exhausted barn owl arrived bearing Abra's Hogwarts letter, having simply taken slightly longer to reach the Egyptian household. Despair quickly turned to elation, and Abra was soon celebrating the fact that he would be joining his older cousins, Rula and Junia, at Hogwarts School of Witchcraft and Wizardry.
Hogwarts
Quidditch
At the age of twelve, in the summer before his second year, Abra tried out for the Alexandria Under-14 team in Egypt. He made the team as its reserve Seeker. Though he didn't play any official games, he was bumped up to starting Seeker in the summer before his third year, aged thirteen, when the previous Seeker moved up to the U17 team. That summer, Abra caught the snitch in 90% of the games he played, and Alexandria won the U14 league with ease.
In summer 2094, when he was fourteen, Abra was eligible for the Alexandria Under-17 team. The position of Seeker was open, as the player that he had replaced in the U14 team the year before had made it onto the Egypt U17 team that summer, and so had left the Alexandria team. Abra, to his immense surprise and mild alarm, made it onto the Alexandria U17 team as starting Seeker.
Despite his initial apprehension, Abra stayed on the team, joining his cousin, Junia, who played Chaser. That summer, he caught the snitch in 70% of games he played; this league was more of a challenge given the age and experience of the other players, and Abra was one of the youngest. (That term at school, Abra was made Seeker on the Gryffindor team, when Quidditch returned after eleven years of absence from Hogwarts.)
The next summer, when he was fifteen, Abra continued to play for the Alexandria U17 team. They came second overall in the league, with Abra catching 80% of snitches. (The school year following this, Abra was made captain of the Gryffindor Quidditch team, where he played as Seeker.)
The summer that he was sixteen, 2096, Abra threw himself into his Quidditch training and helped the Alexandria U17 team win their league. He caught the snitch in around 85% of his games. (He was no longer captain of the Gryffindor team that school year, as he had been made prefect instead, but Abra again got onto his house team as Seeker.)
Summer 2097 was Abra's last on the Alexandria U17 team before ageing out. He caught 85% of snitches for the second year in a row. The team came second in the league by a narrow margin of points. (In his seventh year at Hogwarts, Abra made the Gryffindor team as Seeker for the final time.)
Gryffindor Quidditch 2094-2095
Gryffindor Team
Chaser (#1): Beau Montague (Shanners)
Chaser (#2): Théodore Montmorency (oh its Erik ok)
Chaser (#3): Olivia Phillips (Govoni)
Beater (#4): Callum Kettleburn (Rey)
Beater (#5): Zoryn Spinnet - Captain (ArianaBlack)
Keeper (#6): Faith Chosen (laurange)
Seeker (#7): Abraham Botros Jr. (Felixir)
Reserve (#8): Emma Dakest (PatInTheHat)
Reserve (#9): Amara Kaul (dansgurl)
Reserve (#10): Rylee Prichard (Kolyander)
Game Results
Gryffindor vs. Slytherin - Gryffindor wins (190-80) (Abra plays as Seeker, catches the snitch)
Gryffindor vs. Hufflepuff - Gryffindor wins (260-70) (Abra plays as Seeker, catches the snitch)
Gryffindor vs. Ravenclaw - Ravenclaw wins (120-300) (Abra plays as Seeker, does not catch the snitch)
Gryffindor Quidditch 2095-2096
Gryffindor Team
Chaser (#1): Emma Dakest (PatInTheHat)
Chaser (#2): Anna Meriwether (Hey Ju)
Chaser (#3): Chang-Woo Spenley (Watson)
Beater (#4): Rylee Prichard (Kolyander)
Beater (#5): Zoryn Spinnet (ArianaBlack)
Keeper (#6): Faith Chosen (laurange)
Seeker (#7): Abraham Botros Jr. - Captain (Felixir)
Reserve (#8): Beau Montague (Shanners)
Reserve (#9): Aston Murray (NPC)
Reserve (#10): Jessica Owens (NPC)
Game Results
Gryffindor vs. Slytherin - Gryffindor wins (290-180) (Abra plays as Seeker, catches the snitch)
Gryffindor vs. Hufflepuff - Hufflepuff wins (70-240) (Abra plays as Seeker, does not catch the snitch)
Gryffindor vs. Ravenclaw - Gryffindor wins (180-70) (Abra plays as Seeker, catches the snitch)
Gryffindor Quidditch 2096-2097
Gryffindor Team
Chaser (#1): Anna Meriwether - Captain (Hey Ju)
Chaser (#2): Théodore Montmorency (oh its Erik ok)
Chaser (#3): Chang-Woo Spenley (Watson)
Beater (#4): Rylee Prichard (Kolyander)
Beater (#5): Zoryn Spinnet (ArianaBlack)
Keeper (#6): Józef Kowalski (Harron Peasley)
Seeker (#7): Abraham Botros Jr. (Felixir)
Reserve (#8): Faith Chosen (laurange)
Reserve (#9): Beau Montague (Shanners)
Reserve (#10): Tessa Roberts (natekka)
Game Results
Gryffindor vs. Ravenclaw - Ravenclaw wins (50-160) (Abra plays as Seeker, does not catch the snitch)
Gryffindor vs. Slytherin - Gryffindor wins (210-90) (Abra plays as Seeker, catches the snitch)
Gryffindor vs. Hufflepuff - Hufflepuff wins (140-150) (Abra plays as Seeker, does not catch the snitch)
Gryffindor Quidditch 2097-2098
Gryffindor Team
Chaser (#1): Anna Meriwether - Captain (Hey Ju)
Chaser (#2): Tessa Roberts (natekka)
Chaser (#3): Józef Kowalski (Harron Peasley)
Beater (#4): Rylee Prichard (Kolyander)
Beater (#5): Zoryn Spinnet (ArianaBlack)
Keeper (#6): Faith Chosen (laurange)
Seeker (#7): Abraham Botros Jr. (Felixir)
Reserve (#8): Emma Dakest (PatInTheHat)
Reserve (#9): Cordelia Winklebleck (griffin)
Reserve (#10): Lydia Myers (NPC)
Game Results
Gryffindor vs. Slytherin - Slytherin wins (130-270) (Abra plays as Seeker, does not catch the snitch)
Gryffindor vs. Hufflepuff - Hufflepuff wins (150-280) (Abra plays as Seeker, does not catch the snitch)
Gryffindor vs. Ravenclaw - Gryffindor wins (210-20) (Abra plays as Seeker, catches the snitch)
Post-Hogwarts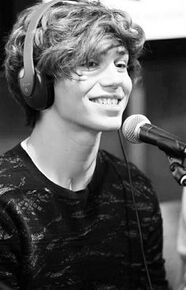 Immediately after graduating from Hogwarts, Abra returned to the Botros mansion in Alexandria. With few plans as to what he was going to do next, all he could do was wait for the compilation album to be released. Once that happened, and the reception was ultimately good, Abra made plans to release more music with the same label.
A few weeks after leaving Hogwarts, Abra's NEWT results arrived. As he had expected, he didn't do amazingly well, achieving only two NEWTs at Acceptable. However, this meant he had technically passed fifty percent of his NEWTs, which was more than he had been expecting, especially given he had done next to no studying all term.
For the next year, Abra continued living at home while he worked on his music and started recording. Despite being married to Dante, they made no plans to live together at the time. Dante was studying to be a Healer and Abra's focus was largely on his music, but their relationship kept going strong and they frequently saw each other, usually with Abra visiting Dante. They continued to keep their marriage a secret, just until they figured out exactly how they were going to break the news to family and friends who might not have taken it well.
Though he mostly focused on his music while he lived at home, Abra knew he would need some other source of income. He anticipated a slow climb to success in the music world, if he was successful at all, and it was necessary that he find a job. Rather than find conventional work, however, Abra started taking painting commissions in December 2098, creating magical portraits for a fee. This was not exactly a secure job, but he was undeterred.
Abra's first single was released in July 2099, followed soon after by the album. Two months later, he moved out of the family home (somewhat reluctantly, and mostly because living with his parents didn't seem to fit the wrock image) and into a small studio flat in London, the absolute cheapest he could possibly find. Once he moved out, Abra's anxiety problems - which had, for a time, abated slightly - got significantly worse. His mood also dropped significantly, as it had been threatening to do since he left the distraction of school and his friends. Rather than tell anyone, he tried to channel his feelings into his music, on the days that he felt like doing anything at all.
Family
Husband: Dante Olivier Botros-Giordano (né Giordano) (b. 25th July 2079)

Mother-in-law: Isabella Giordano (née Ricci) (b. 19th September 2050)
Father-in-law: Saro Ciccio Giordano (b. 23rd April 2039)
Brother-in-law: Francis Giordano (b. 3rd March 2070)

Mother: Nora Botros (b. 2037)
Father: Owen Botros (b. 2037)
Brother: Hassan Asim Botros (b. 21st March 2065)

Sister-in-law: Katherine Marguerite Botros (née Emerson) (b. 16th August 2065)
Sister: Lilian Botros (b. 2067)
Paternal grandmother: Deborah Botros (deceased)
Paternal grandfather: Abraham Kareem Botros (b. 14th August 2003, d. 24th August 2090)
Nephew: Jasper Amir Botros (b. 4th August 2093)
Niece: Margaret Naia Botros (b. 2096)
Uncle: Julianne Botros (b. 2039)
Aunt: Patricia Botros (b. 2041)
Cousin: Rula Mariam Van Hutton (née Botros) (b. 4th February 2075)

Cousin-in-law: Maxwell Irvine Van Hutton (b. 25th September 2074)

Cousin: Junia Latifah Botros (b. 27th June 2078)
Cousin: Alanna Maysan Botros (b. 1st July 2082)
Cousin: Aaron Matin Botros (b. 1st July 2082)
Aunt: Sally Russ (née Botros) (b. 2042)
Uncle: Tony Russ (b. 2039)
Cousin: Eureka Russ (b. 20th April 2073)
Aunt: Janet Botros (b. 2049)
Cousin: Marci Hanuel Lee (b. 2060)
Work History
Various Clients
Artist (December 2098 - present)
Abra
Singer-songwriter (August 2095 - present)
Music Career
Though he received a guitar for his ninth birthday, Abra didn't learn to play until he was eleven. At this point, he started receiving lessons in playing guitar and singing from West Odessa during Hogsmeade weekends. Before long, he started thinking up new melodies and accompanying lyrics to go with them, his first attempts at rudimentary song-writing. Abra's first songs are long since lost; for the first couple of years that he wrote songs, he was reluctant to try to write anything down, and only started doing so when he realised he no longer had even a vague memory of his earliest attempts. The first songs he wrote and kept a record of date back to when he was around fourteen years old.
Abra played at his first open mic night in August 2095, in his home city of Alexandria. He continued to do so over the following few years, eventually branching out to London venues as well. In the summer of 2096, he began putting together and sending out demo tapes to record labels. Abra didn't hear back from anyone until late 2097, when a small, independent label, Dark Circus Records, invited him to a meeting. The label signed him the very day of the meeting, specifically to release some music on a compilation album of new artists. He made plans to go back over the Easter holidays to record, so that the album could be released in the summer. The label advised him to get as much performing experience as he could.
[The compilation album], on which Abra ultimately had three tracks, was released in June 2098, the same month Abra graduated from Hogwarts. The reception to the album was good, and Abra used the exposure to secure various gigs around the United Kingdom, usually as a warm-up act for more well known artists. He also made plans to release a solo album with Dark Circus, who contacted him to ask if he was still interested in doing so.
To begin with, Abra planned to release an extended play, based on advice from his various contacts. Ultimately, however, he found he just couldn't bring himself to cut down the tracklist enough, and decided to instead take a risk with releasing an album: Colours That Don't Exist. All of the songs he wanted to put on it were by this point already written, and many had been recorded for his demo tapes, but Abra spent many months fine-tuning everything and trying to get it as close to perfect as he could. West Odessa also provided input and gave Abra a lot of advice in regards to the track list, single releases, and generally getting things polished. He played on several tracks on the album in the role of an uncredited session musician.
The first track from the album was released in mid-July 2099, with the full album release coming at the end of the month. In August, Abra threw himself into working on a second album, while continuing to play in other gigs. He entered talks with Mind's Eye Records regarding releasing his second album with them, but decided to delay making a decision while he was still actively releasing singles from Colours That Don't Exist.
[move to mind's eye and second album details tba]
Discography
[New Artist Compilation Album/Sampler] :: June 2098, TBA
Colours That Don't Exist :: 31st July 2099, peaked at #32 for 5 weeks
Don't Forget Me (not released as a single)
Slytherin Soul, Hufflepuff Heart (not released as a single)
Lilipad, Lilipad (not released as a single)
Colours That Don't Exist (released 12th July 2099, peaked at #33 for 4 weeks)
Upside Down (released 31st October 2099, peaked at #38 for 3 weeks)
The Damage (released 3rd February 2100, peaked at #20 for 6 weeks)
Panic Attack (released 10th July 2100, peaked at #8 for 9 weeks)
I'm Not a Baby Bowtruckle (not released as a single)
Born in June (not released as a single)
Pride Isn't Just for Lions (not released as a single)
Juniper and Elm (not released as a single)
Only You (cover) (not released as a single)
the deep dark :: 10th November 2100, TBA
long way (down) (TBA)
dramatic (released 20th October, peaked at #3 for 7 weeks)
the deep dark (TBA)
obliviate (TBA)
double-edged word (TBA)
father/son (TBA)
the things we need (TBA)
dementor's chill (TBA)
burnout (TBA)
long way (up) (TBA)
Lyrics and Song Details
Colours That Don't Exist
the deep dark
A sardonic track that fluctuates between a faster tempo (the verses, which are more bitter and seething, lyrics allude to being called overdramatic all the time) and slow tempo (the chorus, sadder, disappointment at problems being trivialised, regret over not standing up for himself, and over sometimes even laughing along with it). The final verse is performed in the same style and tempo as the chorus. Starts to fade out, but ends abruptly.
Lyrics TBA
Accolades, Achievements, and Qualifications
| OWL | Grade |
| --- | --- |
| Astronomy | P |
| Care of Magical Creatures | A |
| Charms | A |
| Defence Against the Dark Arts | E |
| Divination | P |
| Herbology | A |
| History of Magic | D |
| Potions | D |
| Transfiguration | E |
| NEWT | Grade |
| --- | --- |
| Care of Magical Creatures | A |
| Charms | D |
| Defence Against the Dark Arts | P |
| Transfiguration | A |
Most Promising Firstie - First Year [Term 45]
Most Likely to Build a Pillow Fort - First Year [Term 45]
Most Likely to Invent or Discover Something - Second Year [Term 46]
Most Dramatic - Third Year [Term 47]
Most Likely to Breach the International Statute of Wizarding Secrecy - Third Year [Term 47]
Most Likely to Play Professional Quidditch - Fourth Year [Term 48]
Most Likely to Become Minister for Magic - Seventh Year [Term 51]
Gryffindor Quidditch Captain (2095 - 2096)
Gryffindor Prefect (2096 - 2098)
Apparition licence
Community content is available under
CC-BY-SA
unless otherwise noted.