Jordan Flint



Name

Jordan Isaiah Flint

Date of Birth

8th October 2080

School

Hogwarts School of Witchcraft and Wizardry
Homeschooled

House Affiliation

Ravenclaw

Class of

2099

Occupation

Arcade attendant/cashier

Build

6', lanky, long-limbed

Hair

Sandy blond

Eyes

Sea blue
Magical Characteristics

Heritage

⅞ Pureblood, ⅛ Muggleborn

Wand

13", fwooper feather, ebony. Slightly yielding.

Boggart

Any sight that will make him throw up

Amortentia

Fresh clean air, orange juice

Patronus

Cannot produce
Jordan Isaiah Flint
is British wizard and former
Ravenclaw
who graduated from
Hogwarts School of Witchcraft and Wizardry
in 2099. He is also a former resident of
Stemp House
, having lived there from the ages of four to eighteen, and now lives in the Stemp family home with
Lorelai
and
Adam Stemp
and their children. Jordan has no contact with either of his biological parents or their families.
Personality and Key Characteristics
Jordan has a striking personality in many ways. What may at first be taken as confidence is actually just a lack of understanding of social boundaries and a tendency to do or say whatever is on his mind without fear or expectation of consequence, though he is relatively confident too. He is very literal, honest to a fault, and gets incredibly upset about dishonesty and cheating. Jordan has an incredibly short fuse, and loses his temper very quickly but also tends to calm down very suddenly too; his emotions are generally very intense but never long-lasting, and though he has rivalries it takes a special kind of person for him to bear a lasting grudge against them.
He is vastly unconcerned with what most other people are doing, instead focusing on himself and his own life. Despite this, he doesn't think very deeply about his own feelings, emotions, memories, or about his life in general, preferring to devote his time to his interests. This means it's usually a great shock to him when things build up inside and overwhelm him.
Jordan is mostly preoccupied with numbers, maths, and maps, his greatest interests. He likes to line things up and has rituals involving counting his belongings and organising/reorganising them over and over, and becomes very upset if anyone tries to stop him. His diagnoses include pervasive developmental disorder and obsessive compulsive disorder, both diagnosed when he was seven, and he received a frontal lobe brain injury when he was very young which has continued to affect him throughout his life. He also has emetophobia.
Jordan considers his magical heritage to be seven eighths pureblood, and one eighth muggleborn. To people who want a more general definition, he describes himself as a half-blood; this is important to him as he is aware that part of the reason his father mistreated him was because his mother was not a pureblood. However, Jordan himself is a pureblood, as neither his parents nor any of his grandparents were muggles or muggleborn.
Interests and Abilities
Cartography: Since he was around ten Jordan has been interested in maps. He has a large collection of atlases, courtesy of Stemp House staff, and makes it a point to draw up maps to the places he spends most of his time, from entire buildings to individual rooms. He drew up a map of Stemp House before going to Hogwarts, and kept it on him at all times while at school. During his years at Hogwarts, Jordan devoted much of his time to extensively mapping out the castle and grounds, to the finest detail. He spent most of his time at school exploring in order to make his map and, as such, discovered the vast majority of the castle's secrets, not limited to its secret passageways. He ran out of things to add to his map of Hogwarts in seventh year, though still deems it unfinished. However, it is likely to stay that way, as Jordan is unwilling to hand it over to anyone else to finish it. The map in question is only vaguely comparable to the legendary Marauders' Map, as it is not charmed to show the denizens of Hogwarts. Jordan briefly considered studying pursuing Cartography as a career and studying it at university, but realised that as his only real ability was in the area of maths, he was unlikely to have much success.
Mathematics: Jordan has loved numbers and maths (but absolutely not Arithmancy) for as long as he has known what a number is. Ever since he was younger he has been known to count everything he possibly can. Prior to attending Hogwarts he showed great skill in the maths lessons the full time residents were given at Stemp House, and even when he was as young as six he would request extra math workbooks, either from his tutors or as birthday and christmas presents from the Stemp House staff. When Jordan reached Hogwarts age and started to struggle in his wizarding subjects, it was arranged for him to study for muggle qualifications in Mathematics, in order to keep him engaged and avoid letting him become disillusioned with school. He took his GCSE in May of fifth year, and his AS and A level in November of his sixth and seventh years, and achieved the highest grade possible in both qualifications.
History and Early Life
Pre-Life and Early Life
Ever since their Hogwarts days, Jordan's parents had enjoyed a casual relationship and spent much of their time together. However, Jordan's father, Tancred Flint, was from a pureblood elitist family, and it was expected that he should marry and have children with another pureblood. Tancred also held these opinions, and though he enjoyed the company of Jordan's mother, Reagan Bellamy, he never allowed the relationship to become serious, as she was technically a half-blood witch, having a pureblood mother and a half-blood father. Despite this, Reagan was in love with Tancred. When she accidentally fell pregnant, she dropped contact with him until the baby arrived.
When Jordan was born, on 8th October 2080, Reagan contacted Tancred, informing him of the birth of their son in the hopes that he would see reason and decide to marry her. Tancred, however, was unconcerned with the idea of having an illegitimate child, and still refused to marry Reagan, instead cutting all ties with her. Feeling no love for her child and now seeing no reason to keep him, Reagan gave Jordan up and disappeared. Tancred reluctantly took custody of Jordan under pressure from social services, but ultimately, like Reagan, had no love for his son. After four years of unhappiness and ill treatment at the hands of his father, Jordan was taken into care and Tancred, who was also found to be guilty of crimes unrelated to his son, was eventually sent to Azkaban for a minimum of ten years. The judge recommended that he not be released for fifteen years.
Pre-Hogwarts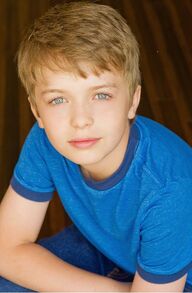 For the first few months of his time as a looked-after child, Jordan was placed with a foster family. It was believed that, as he had only just turned four years old, he was likely to have a chance at adoption provided he could assimilate and cope in a family environment. Unfortunately, this turned out to not be the case. Though it was expected that he would find family life difficult at first, Jordan could not get used to the setting at all. After six months, neither Jordan nor his foster parents were coping, and he was moved to a different placement.
The second placement seemed doomed to fail from the start, as Jordan's heightened stress levels as well as his emerging behavioural problems put a lot of strain on all involved. Fortunately, his case worker was acutely aware of the difficulties and, after having many conversations with colleagues and doing a large amount of research, she decided that Jordan would likely be better able to cope in a group home, rather than a family setting with stand-in parents. It seemed likely, too, that a group home would be better equipped to handle his behaviour. The case worker was aware of a new children's home, Stemp House, that was due to open that same summer, and applied for a bed for a full-time resident on Jordan's behalf. Jordan was accepted at once, and moved in on opening day.
It quickly became clear that Jordan's case worker was correct, and that Jordan's personality and individual needs were better suited to the routine and set-up of a group home rather than an intimate family setting. Once he had adjusted to life at Stemp House, he thrived there. Life was of course not without its problems, and almost daily ones at that, but even with his problems factored in, Jordan adjusted well and coped better than anyone had expected. However, it did not go unnoticed that the circumstances of his formative years had a profound impact on his personality and development, and so it was decided that Jordan would have regular check-ups with the visiting Healer, and sometimes an outside specialist, to monitor this. At the age of seven he went through an assessment with a Mind Healer after the intensity of his meltdowns reached a fever pitch, and was diagnosed with Obsessive Compulsive Disorder and Pervasive Developmental Disorder.
At Stemp House, Jordan interacted with his co-residents, namely Christiana Hobday and Mercy Rowbotham, both girls being around his age. Over time, he formed friendships with both girls, and learned to tolerate and co-exist with and sometimes befriend the other residents who gradually started to move in, as well as the Stemp children themselves (though he unwaveringly maintained that the older residents were too moody and teenagery for him to want to like them). The staff cared for Jordan well and he spent his time making the most of the many facilities at the home. Like the other young residents of Stemp House, Jordan was privately educated by brought-in tutors in preparation for Hogwarts. It was preparing for Hogwarts that the counsellor and care workers also put their efforts towards, so that once it was time for Jordan to make the switch to part-time resident, he was reasonably emotionally equipped for this change.
Hogwarts
Post-Hogwarts
At the age of eighteen, and having graduated (kind of) from Hogwarts, Jordan had officially reached the point of ageing out of Stemp House, something which had been filling him with dread. It was not required that he leave immediately, as residents were generally given help in finding somewhere to go before being left to their own devices in the adult world, so he spent much of his summer packing up his things and trying to come to terms with his impending situation, and wondering if he would ever be able to cope on his own in the real world.
As it happened, Jordan needn't have worried too much. During the summer, Lorelai Stemp offered him the opportunity to live with her own family upon leaving Stemp House. Jordan accepted and was thrilled, especially as it meant things would not change half as much as he had expected them to. Though he had always rejected the idea of his own family, Jordan had felt almost like part of the Stemp family for years, thanks to everything they had done for him. He was hugely grateful for Lori's offer, yet another way that the Stemps had rescued him.
Initially, Jordan was not ready to enter the world of work, given that he was still adjusting to the world of no school and no longer being a Stemp House resident. Eventually, however, he started filling in applications. For a while, he was unsuccessful, given his lack of NEWT qualifications, with even the few muggle jobs he applied to turning him down.
Jordan's luck changed in early November 2099. He was hired as a cashier and attendant at a wizarding arcade in London, CaspArcade, for which he was paid minimum wage. At first it seemed like he wouldn't last very long in the job, as he found the many flashing lights and shrill noises overstimulating. Just when he was almost ready to quit, Jordan's boss, Caspar Viridian, the owner and manager of the arcade who had already picked up on his discomfort, heard him talking about numbers and the finer points of mathematics to one of an uninterested coworker. Remembering Jordan's qualifications in mathematics, Caspar pulled him aside and offered Jordan the opportunity to help him keep the books. Jordan gladly accepted, and was able to spend more time in the back room where things were a lot less overwhelming. His job description remained the same, as he continued to occasionally work in the main arcade, but his boss gave him a raise to reflect to additional work he was doing.
Accolades, Achievements, and Qualifications
| OWL | Grade |
| --- | --- |
| Ancient Runes | P |
| Astronomy | A |
| Charms | A |
| Defence Against the Dark Arts | P |
| Herbology | P |
| History of Magic | T |
| Muggle Studies | A |
| Potions | A |
| Transfiguration | D |
GCSE Higher Mathematics: Grade 9
A Level Mathematics: A*
Apparition Licence
Community content is available under
CC-BY-SA
unless otherwise noted.